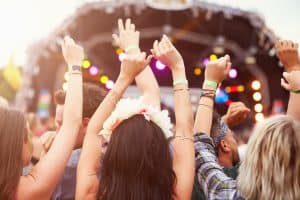 The week of Bonnaroo is an exciting and indescribable time in Manchester, Tennessee. The area is flooded with locals, musicians, artists, and out-of-towners all looking to enjoy themselves at our famous annual music festival. And, as happens with a festival of this size, the area will also be flooded with law enforcement.
Many agencies in and around the area tend to target Bonnaroo as a good time to stop festival-goers and search their vehicles for drugs or weapons. They're also on the lookout for public intoxication or disorderly conduct. It's important to be aware of and protect your rights as you get on the road to enjoy the festival this year. Check out our list of tips to prevent an arrest or charges as you're on your way to Bonnaroo 2018. And have a great time!
Don't get stopped before you even get there
As you make your way to Bonnaroo, keep the following in mind, and if you run into trouble, contact our specialty Bonarroo attorneys as soon as possible.
Follow all traffic laws as you enter the area—even the most minor, like improper passing, or tailgating.
Don't leave home without ensuring your license, insurance, and registration are all up-to-date.
Don't drink alcohol or smoke marijuana in your vehicle, and don't allow your passengers to do so, either.
If you are pulled over, be polite to authorities and stay calm.
Be truthful when asked your name and other information. However, don't make any admissions or denials if accused of anything—simply and politely let the officer know that you'd like to speak to your attorney before answering any questions.
You have the right to refuse a search of your vehicle unless the officer has a warrant with your name on it. The officer cannot threaten or intimidate you. Make sure you clearly—politely—verbally refuse the search if the officer requests.
Whether in the car or outside of the car, don't make any sudden movements, and keep your hands out of your pockets.
If you do end up getting charged or arrested, don't answer any questions or make any statements until you have an attorney. Remain calm and resist the urge to become angry or frustrated. This will only make the situation more difficult.
If you're permitted to make a call from jail, keep in mind that all calls are recorded. Don't discuss any details about the charges or arrest over a jail telephone.
Other things to remember once you're there—be cautious of buying anything from anyone who isn't an approved vendor at the festival. Also, remember that by entering Bonnaroo property, you consent to being searched at any time by law enforcement officials.
In past years, festival-goers who were issued drug citations were sent a letter and given the option to pay a fine to the County. Many people don't know that this policy changed in 2015! If you're issued a citation or arrested, no matter if you're local or from out of town, you will be processed through the local Court system.
Whether it's your first Bonnaroo experience or the latest of many, we hope it's an incredible time and that you stay safe and out of trouble. But, if you're arrested at Bonnaroo, the attorneys at the Law Offices of Adrian H. Altshuler & Associates are here to help and protect your rights. We have offices in the Franklin, Brentwood, or Columbia areas, call us today at 615-977-9370 or contact us.