Drunken Car Crash Explosion – Is the Alcohol Server Responsible?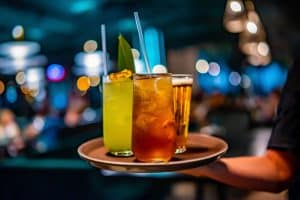 According to the U.S. National Highway Traffic Safety Administration, 38,824 fatal traffic accidents occurred in 2020, and 11,654 of those accidents were due to drunk driving crashes. Statistics for 2019 indicate that there was a 66% decrease in alcohol impaired driving fatalities since 1982.
This is great news in the fight against drunk driving, but while drunk driving fatalities are down, they have not been completely eliminated, and the Foundation for Advancing Alcohol Responsibility asserts, that "Hardcore drunk drivers continue to wreak havoc on our nation's roads."
If a hardcore drunk or intoxicated person injures someone or causes damage to property, should the restaurant, bar, or venue that served said individual, bear some responsibility for the incident? Is it the food service company's responsibility to track all customers after they have exited the venue? Are they supposed to check and see what all attendees do after leaving an event? They did provide the means for the individual to drink excessively and possibly over serve them, but does that warrant responsibility for anything that happens afterwards?
Bombed driver blows up a house
An interesting news story appeared on Insider in January 2023 regarding a drunk driver who created chaos in a residential neighborhood. A young woman named Daniella Leis got excessively inebriated at a Marilyn Manson concert, was kicked out of the venue, got behind the wheel of her car while intoxicated, traveled in the wrong direction on a one-way Ontario street, then crashed her Ford Fusion into a residential home, cutting the house's gas line, and setting off a gas explosion. Havoc was wreaked, property was damaged, and people were injured.
The NY Post states, "She was so bombed she blew up a house." The crash and explosion caused millions of dollars of damage to the neighborhood. Luckily, no one was killed, but four homes were destroyed, and several people were injured. Leis pleaded guilty to impaired driving and was sentenced to three years in prison. Her irresponsible behavior caused over $10 million in damages. Should the food service company that worked that concert at Budweiser Gardens on that August night in 2019 share in some of the responsibility for the damages? While Leis is not denying her guilt, she and her father believe the Ovations Ontario Food Services should be held responsible as well.
Leis pleaded guilty to driving under the influence (DUI) and is currently serving her sentence, which includes three years in prison and a three year driving ban. She is also the defendant in six civil cases brought against her by the victims of the 2019 drunken car crash explosion. The civil suits have compelled Lis and her father to sue Ovations Ontario Food Services for their part in getting her smashed, which led to the crash and the chaos that followed. Leis and her father are claiming that the food service company shares in the responsibility because they did not have any regard for the defendant after she was removed from the venue. They argue that Ovations should have taken steps to make sure that she did not drive since she was clearly intoxicated.
According to a CBC article, the judge assigned to this young woman's trial, Judge George Orsini, said Luis was an intelligent woman who should have known better. So, should the servers have also known better? Does the alcohol provider bear any responsibility? Laws vary regarding third person responsibility so it will be interesting to see how this plays out in the Canadian courtroom.
What are Tennessee laws regarding DUI accidents and third parties?
Tennessee Laws regarding third-party responsibility in driving under the influence accidents state that a third party can be held liable if, and only if, the jury of 12 decides beyond a reasonable doubt:
The sale of the alcoholic beverages were the proximate cause of the damage and that the third party sold alcohol to a person under 21, and
That underaged person caused damages as a direct result of the consumption of alcohol; or
The third party sold alcoholic beverages to a clearly intoxicated person who then caused damages due to their intoxication.
This Tennessee law, 57-10-102, Standard of Proof, clearly states that if a jury believes that a seller of alcohol serves a visibly intoxicated person and that person causes some sort of personal injury or death, a judgment may be awarded to another party who has suffered damages due to the intoxicated person.
A concert or festival, like the concert Daniella Luis attended in Canada, or the Bonnaroo, an annual Tennessee festival is often a time to relax, unwind and maybe throw back a drink or two, but you don't want to end your night in an explosive drunk driving crash or arrested for some other alcohol-related reason.
What to do if you have been involved in an alcohol-related or drunk driving incident
One smart tip is to stay sober. The legal limit for blood alcohol content (BAC) in the state of Tennessee is .08 BAC. You can be arrested for much less, especially if the police think you are out of control.
These laws can be very confusing. If you are facing a DUI or public intoxication charge, you will want to seek the counsel of an experienced criminal lawyer, like those at the Law Offices of Adrian H. Altshuler & Associates. If you find yourself in a tricky situation due to an alcohol-related incident, contact one of our experienced criminal defense attorneys today. No matter the situation, we will help guide you along every step of the way. With offices in Franklin, Columbia, and Brentwood, we can ensure your convenience when meeting us for an appointment. Call our office or complete our contact form today.
Related Content: