License Plate Readers Lead to Drug Bust in Lebanon, TN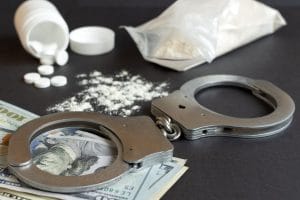 Earlier this month, Lebanon police officers made an arrest that theoretically took drugs and other paraphernalia off of Tennessee streets. However, the way in which they went about this is a highly debated topic. They used controversial surveillance technology to make a stop and arrested a 22-year-old.
The technology they used is license-plate-recognition software that is intended to flag stolen vehicles or suspects when they enter city limits. ("Suspects" in what sense was not made clear.) The man who was arrested had his vehicle flagged, but it is unclear for what. During the traffic stop, the suspect was found in possession of cocaine, fentanyl, and prescription drugs. He also had 30 blank COVID vaccination cards, as well as COVID test result forms. The charges were possession of drug paraphernalia, possession of counterfeit controlled substances, and possession with the intent to resell.
We want to take a look at this software and the issue it poses, but let us first take a more in-depth look at the drug charges.
What are drug crimes in Tennessee?
You can be charged with a drug crime in Tennessee if you knowingly (or unknowingly) participated in any of the following activities:
Delivering controlled substances
Manufacturing a controlled substance
Selling a controlled substance
Possession of a controlled substance with the intention of manufacturing, delivering, or selling the substance
Knowingly possessing a substance
Casually exchanging a controlled substance
Drug crimes can have a range of charges and consequences. Our attorneys are familiar with handling federal and state charges. You can be charged with a felony or a misdemeanor when it involves drugs and you will need an attorney who has experience in handling both. You may even be in danger of losing your professional license due to alleged drug use. Some of the crimes you may be charged with include:
Drug trafficking
Dealing or selling drugs
Driving under the influence of drugs
Drug-related assault
Possession of a controlled substance
Festival drug crimes
Any one of these charges can have steep consequences for you, your future, and your family. A drug conviction can stay on your record and jeopardize everything you have worked hard to achieve. If you are being charged with a drug crime, contact a Franklin drug crime attorney immediately.
Penalties for drug offenses
If you are concerned or unsure of what consequences you may suffer if you are found guilty of a drug offense, you should be. Fines and jail time are imminent without the help of an attorney. Not only does the category of the drug play a role but also the amount you are found with. Fines can be upwards of $100,000 per charge so it is critical to have legal representation. Penalties include:
Schedule I: Class B felony with up to $25,000 fines and 8 to 30 years imprisonment
Schedule II: Class C felony with up to $10,000 in fines and between 3 and 15 years imprisonment
Schedule III and IV: Class D felony with up to $5,000 in fines and 2 to 12 years imprisonment
Schedule V, VI, and VII: Class E felony with up to $3,000 in fines and 1 to 6 years imprisonment
It is important to note that marijuana offenses can increase to a Class D felony if a substantial amount is found. There is also the possibility for misdemeanor offenses and penalties related to drug crimes. If the crime is committed on school property, penalties can be much steeper.
What about those fake vaccination cards?
The news focused on the drugs bust, but we would be remiss if we ignore the fake vaccine cards. It is illegal to manufacture, use, and sell fake vaccine cards. Not only is it illegal – it's a federal felony. Per WUSA 9, "falsifying a government seal is a federal crime. The vaccine cards have two seals. In the corner of the card, there are the CDC and HHS seals. Forging those is a felony under Title 18 of the US Code, Section 10-17. That violation could carry a fine and a maximum of 5 years in prison."
Surveillance technology or invasion of privacy?
Let's get back to the software that was used to initiate a traffic stop that led to a drug bust. We have a lot of questions. How accurate is the use of this software, and how legal is it? Both residents and city officials had these same concerns prior to the implementation of this new software.
A key argument is that this software is an invasion of privacy. License plate readers don't only target "bad guys;" anyone's plates may end up being run in the system. That's how the system works: it doesn't suddenly turn on because a car thief showed up; it reads every single plate, and identifies the ones associated with alleged criminals. As the ACLU explains, "enormous databases of innocent motorists' location information are growing rapidly. This information is often retained for years or even indefinitely, with few or no restrictions to protect privacy rights."
The police department disagrees; they instead argue that the cameras are not used for citations, tracking individuals, or traffic enforcement. They say that the goal of this software is to detect crime and stop criminals in their tracks. The police department has also pointed out that this technology has been used in the city before. The tech is installed in police cruisers and is even used at the county fair.
But that "or suspects" keeps stopping us. If the software is not used for tracking individuals, then who are these alleged suspects? How is this technology finding alleged criminals, if not by monitoring and surveying residents? Do criminals have a specific look? What characteristics does the software look for? What crimes are actually being deterred? Why is there surveillance technology being used at a county fair? All of these concerns can lead to gray areas in the legal sphere.
Everything surrounding this case is a bit strange. The one thing we know for certain is that if you're facing criminal charges of any kind, we want to help. Our experienced criminal defense attorneys have served this area for decades. Contact the Law Offices of Adrian H. Altshuler & Associates at 615-977-9370, or complete a contact form to schedule a consultation today. We serve clients in the Franklin, Columbia, and Brentwood areas.