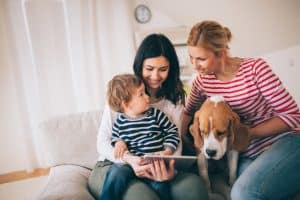 When Sabrina and Erica Witt decided to end their marriage, they didn't expect to become national news. But when protesters and lawmakers tried to intervene in the custody of the couple's child, conceived through artificial insemination, the simple divorce became much more complicated. Knox County Circuit Court Judge Greg McMillan ultimately changed his ruling to favor of the couple's original request, a decision which the Tennessee Supreme Court recently upheld.
A series of conflicting decisions
The Witts were married in Washington D.C. in April of 2014, and their child was born in January of 2015. The main thrust of the contention of the protesters was that because the child was conceived through artificial insemination, and thus not genetically related to both parents, only the so-called 'biological' parent should have custody. While this ignores potential situations wherein the donated genetic material was from a relative of the non-gestating parent, this type of argument would also disempower step- and adoptive parents in custody determinations.
In the first ruling on the case, in 2016 Judge Knox did rule that there was no parent-child relationship, legally, between the non-gestating parent and the child, comparing the relationship to that of a stepparent.  Without being dismissive of the deep and meaningful relationships stepparents maintain, this type of ruling was out of alignment with Tennessee's own rules on stepparent custody and visitation. Stepparents in Tennessee are permitted visitation when the biological parent agrees and when the stepparent is making some type of economic contribution to the child's care.  To rule that a same-sex, non-biological parent has even fewer rights than a stepparent is counterintuitive.
In 2017, however, 4th Circuit Court Judge Greg McMillan determined that not only could the divorce go forward, but that the non-gestating parent would be designated as the "father," and eligible for all commensurate custody rights and privileges. Fifty-three separate legislators had filed to intervene, and plan to appeal McMillan's decision.
Much of the disagreement in this case centered on Tennessee's family law statutes verbiage, which includes terms such as mother, wife, husband, and father. In a post Obergefell v. Hobbes national legal landscape, many states are working to bring their existing laws into alignment, while other segments of the country and population are working equally diligently to prevent any further acceptance or intrusion of gay rights into common legal practice.  The Witt's divorce represents the first same-sex divorce and custody case in Tennessee, but it will not be the last. Governor Bill Haslam recently signed a bill into law stating that "natural and ordinary" definitions of words apply to state laws. The implicit meaning is that a "husband" or a "wife" cannot be a same-sex spouse. These cases of conflict will continue for the foreseeable future.
If you have questions, about a complex divorce issue or a same-sex marriage, divorce, or custody situation, The Law Offices of Adrian H. Altshuler & Associates is here to assist. We have a long-standing legal reputation as empathetic and determined champions for our clients, with conveniently located offices in Franklin, Brentwood, and Columbia. Call us today for a free consultation at 615-977-9370 or contact us.