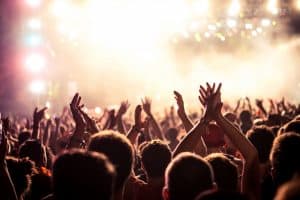 This year's Bonnaroo music festival is fast-approaching. The national event will run from June 13 to June 16, 2019. The four-day event takes place on the Great Stage Park (a 650-acre farm) in Manchester, Tennessee. The festival attracts a broad range of musical styles including classic rock, indie rock, folk, bluegrass, country, gospel, pop, jazz, hip hop, reggae, and other forms. The music normally starts around noon and lasts into the middle of the morning.
The festival is considered one of the premier musical festivals in the country. It attracts performers and attendees from Tennessee, the South, and all across America. Past performers include Paul McCartney, Bruce Springsteen, Bill Joel, Willie Nelson, the Dave Matthews Band, Pearl Jam, Eminem, Metallica, and many other performers.
This year's lineup includes:
Phish
Cardi B
Childish Gambino
The Lumineers
Grand Ole Opry
Odesza
Solange
Post Malone
Hozier
The festival supports many charities such as Habitat for Humanity, the Boys and Girls Club of America, The American Red Cross, and Doctors without Borders. In the past, it has supported victims of Hurricane Katrina, the 2010 Nashville floods, and victims of other disasters.
Activity tents are set up throughout the festival for visitors. The tents focus on other types of entertainment such as comedy acts, musical activities, and informational tents. The festival attracts tens of thousands of people each year.
Criminal complaints at Bonnaroo
Law enforcement is usually active at the festival. People can be arrested for different acts – mainly involving underage drinking, sexual assaults, possession and sale of drugs, thefts, driving while texting, and other charges. Law enforcement handles these charges differently than most other types of Tennessee offenses.
In-state and out-of-state defendants do normally need to appear at a hearing. Experience criminal defense attorneys understand how the charges are typically prosecuted and what defenses apply. Skilled attorneys work aggressively to have charges dismissed based on lack of evidence and other causes. Our defense lawyers also negotiate criminal defense plea agreements when just for our clients.
Defendants arrested at Bonnaroo do have rights. Drunk-driving charges can be challenged on the basis that the police didn't have grounds to stop you and on all the grounds that the tests were not valid. Sexual assault defendants have the right to contest the facts that led to the charges. Theft crime defenses include challenging whether a theft did occur, ownership of the property, the value of the items, and other defenses. Experienced criminal defense lawyers seek to suppress evidence of drug possession and sales.
For help with any Bonnaroo criminal charge, the Law Offices of Adrian H. Altshuler has the experience and resources to help you get justice. We fight for anyone charged in-state or from out of the area who was charged with a Bonnaroo offense. We have offices in Franklin, Columbia and Brentwood where we are ready to help you get justice. Please call 615-977-9370 or fill out the contact form to schedule a free appointment.