Arrested at a Franklin Festival? Time to Hire a Lawyer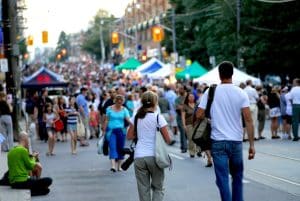 As summer approaches, festivals are becoming more frequent, especially in Franklin, Tennessee, where the number of tourists will rise significantly. Maybe you attended this year's Main Street Festival or plan on attending Franklin Day. There's lots to do in and around our lovely little town.
There are also a lot of opportunities to get into legal trouble. Festivals can lead to arrests for attendees, given the high population and party atmosphere. The most common charges among festival goers are drug possession and trafficking, drunk driving, assault and a wide range of infractions that fall under the disorderly conduct umbrella in Tennessee.
Whether you are a Tennessee resident or an out-of-state visitor, you will need to hire a Franklin criminal defense lawyer who can protect your rights and understands the complexities of the law. Regardless of the criminal charges you face, your defense will always concentrate on intent and evidence.
What criminal charges are common at Tennessee festivals and parades?
Here is a general breakdown of the common types of arrests that occur at these types of gatherings:
Drug related offenses: One of the most common criminal charges people face after attending festivals in Franklin is drug-related offenses. With the prevalence of illegal drug use at events like Bonnaroo, it's not uncommon for law enforcement to set up checkpoints and conduct searches of vehicles and individuals.
Disorderly conduct: In Tennessee this category of criminal offenses encompasses a wide range of legal infractions. These may include fighting, disturbing the peace, or creating loud noises that disturb others in public places. Disorderly conduct charges can result in various penalties, ranging from fines to prison time, depending on the severity of the offense.
Assault: Whether it involves a physical altercation with another individual or law enforcement, assault charges can have significant consequences. In Tennessee, assault can be classified as a misdemeanor or a felony, depending on the circumstances of the offense. Penalties for assault may include fines, probation or prison time, and may also have long-term consequences such as difficulty finding employment, housing, or obtaining a professional license due to having a violent offense on your record.
Sexual assault: Festivals and events, especially those with on site camping space, may be host to sexual assault as well. If you are facing sexual assault charges from an event that occurred at a Franklin festival, your qualified attorney will closely scrutinize the evidence and intent behind the alleged offense to devise a strong defense strategy. It is critical that you hire an experienced criminal defense attorney to navigate the complicated legal system, particularly with regard to issues such as consent and victim testimony, which are typically associated with sexual assault charges. A capable lawyer can help you ensure that your rights are protected.
DUI: In cases of driving under the influence (DUI) charges, an experienced lawyer will carefully examine the evidence and intent surrounding the incident to build a strong defense strategy. By doing so, they may be able to successfully argue for a reduction in charges or even a dismissal, which can have a significant impact on the consequences you may face.
What penalties do I face if I'm charged with a crime at a Franklin festival?
Whether intentional or not, if you break the law while attending a festival or parade in Tennessee, you may face criminal charges with serious penalties: hundreds or thousands of dollars in fines and court costs, plus the risk of jail or prison time. Depending on the charge, you could lose your job, educational opportunities, and even some of your otherwise Constitutionally guaranteed rights. You could also face and/or civil lawsuits and damages. The victim may seek compensation for medical bills, property damage, and lost wages due to potential missed work during their recovery process. This can have a significant impact on your personal and professional life, especially if you do not have adequate Tennessee legal representation to defend against the charges.
When hiring a criminal defense lawyer in Franklin, it's important to choose someone who has experience working with clients who have been charged after attending festivals and parades. Look for a lawyer who understands the local court system and has a track record of success defending clients in similar situations.
With the right lawyer, you can ensure that your rights are protected and that you have the best chance of moving forward from this mistake.
Do I need a Franklin criminal defense attorney if I am an out-of-state tourist?
Yes. If you are an out-of-state tourist arrested for a crime at a festival in Franklin, Tennessee, you will want a local attorney. Not only do we know the laws, but we are licensed to practice in the Volunteer State, which means we can represent you and your interests.
One of the first steps you can take is to research criminal defense lawyers who have experience handling cases related to festivals or events similar to yours. Check their website, social media, and testimonials to gauge their experience and success rate.
Next, schedule a consultation to discuss your case. During this meeting, be sure to bring all relevant information, such as police reports and witness statements, so that the lawyer can assess the strength of your case.
With a team of knowledgeable criminal defense lawyers, the Law Offices of Adrian H. Altshuler & Associates can provide you with the legal representation you need to defend your rights and examine the context of your situation. By examining your intent and the evidence from the incident our experienced team will do everything in our power to safeguard your rights and fight on your behalf.
If you've been charged with a criminal offense after attending a festival or parade in Franklin or anywhere else in Tennessee, don't wait to get legal help. With our team's experience in festival related cases, we can help build a strong defense on your behalf and negotiate with prosecutors to reduce or dismiss charges. Contact the Law Offices of Adrian H. Altshuler & Associates for your consultation today. We maintain additional offices in Brentwood and Columbia.