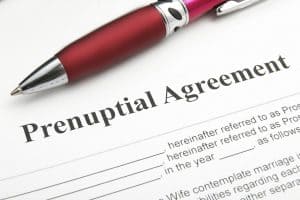 A recent report by CNBC revealed that millennials are now often asking their spouses to sign prenuptial agreements. The American Academy of Matrimonial Lawyers (AAML) confirms that millennials are marrying later in life. Many have started careers and begun to accumulate assets. To protect their financial interests, they see prenuptial agreements as a remedy. The large amount of student loan debt is another factor driving these premarital contracts. Millennials don't want to be responsible for tens or hundreds of thousands of dollars of debt if the marriage fails.
What the survey data shows about millennial marital trends
According to the AAML survey, over 60% of family lawyers have seen an increase in the number of prenuptial requests over the past three years. This is on top of a 500% increase over the past two decades. Another survey by TD Ameritrade, revealed that almost 1/3 of millennials were delaying marriage and 38% were delaying having children. The survey asked 1,000 people over 18.
Other surveys, according to the CNBC article, indicate that career choices are a priority over marriage and children for more than 70% of millennials. Due to placing a good job first, many millennials have acquired interests in a stock program, a 401(k), and real estate by the time they're ready to marry. Additional concerns include protecting the increase in the value of separate property and inheritance rights since their parents are also older.
The article also indicates that another prenuptial agreement incentive is that many millennials have experienced the divorce of the parents. That's one reason they delay marriage. It's also why they're very aware that marriages do fail and require a divorce. Many millennials have even decided that marriage for life is not a realistic goal.
Prenuptial agreements can do more than address the right to claim assets or responsibility for debts. They can address issues such as how a mother or father "might be compensated" if they leave their job to care for children. Prenuptial agreements need to be prepared and signed before marriage. While they may take the romance out of marriage, they do help to protect financial interests.
At the Law Offices of Adrian H. Altshuler & Associates, our Franklin family lawyers explain the advantages and disadvantages of prenuptial agreements. We will explain what property is considered separate and what property is marital. We'll help protect your rights while also helping to preserve the romance of marriage.
For clear guidance, please call us at 615-977-9370 or use our convenient contact form to schedule an appointment. We handle all phases of family law for individuals contemplating marriage or going through a divorce. We represent clients in Franklin, Columbia, Brentwood, and across Tennessee.