Recognizing the Rights of Biological Fathers in Adoption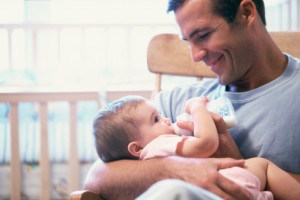 When an unmarried woman gives birth to a child and then she wants to place that child for adoption, she has a legal obligation to obtain consent from the child's other biological parent before doing so. Unmarried fathers have legal rights which, by law, must be recognized and taken into consideration before allowing the child to be adopted into a new family. Tennessee has a process by which the biological father of a child who is not married to that child's mother can assert his paternity and begin to establish a relationship with his child. In Stanley v. Illinois 405 U.S. 645 (1972), and several other cases, the U.S. Supreme Court has affirmed the Constitutional protection of an unwed father's rights. The Court has also recognized that the shared biology between the father and the child gives unwed father standing to establish a relationship and assume his responsibility as a parent.
According to the U.S. Centers for Disease Control and Prevention (CDC), more than 40 percent of U.S. births since 2008 have been to unwed women. In Tennessee, 40 percent of all births in 2015 were to unwed mothers as compared to 36 percent in the entire U.S. that year. All of the fathers of those children who were born to unmarried mothers are referred to in the TN statutes as "putative" fathers, which generally means he is a man who claims to be the biological father of a woman to whom he is not married when the child is born. It also infers that he has yet to establish a legal relationship to the child, which can be done by signing an affidavit and filing it with the court.
Tennessee has established a Putative Fathers registry, which is a database where biological fathers who do not yet have a legal connection with their child can register information about themselves, the mother and the child so that they can be found in the event of future adoption proceedings. The putative father registry serves as a "notice of intent" to claim paternity of a child for concerned fathers who do not want to miss out on the chance to establish a relationship with their child.
In order to place a child for adoption, both parents must relinquish their parental rights forever by signing a consent to adoption. In order to relinquish his parental rights, a putative father must establish paternity first. If a man fails to list himself on the putative father registry, or file an affidavit of paternity with the court, he may lose the chance to establish paternity before the child's mother places the child with another family for adoption.
Conversely, an alleged biological father may execute a waiver of interest and notice affidavit before the birth of the child if the mother has named him as the father and he is certain that he is not. Filing of this waiver terminates his parental rights and responsibilities. However, if the child is not adopted, the court may restore the putative father's rights and responsibilities if he is the biological father.
Biological fathers who are not married to the mother of their unborn children have rights. If you believe that your rights are being violated, you are welcome to schedule a consultation with an experienced Franklin family law attorney from the law offices Adrian H. Altshuler & Associates. We always keep the best interest of the child in mind as we also make sure that both biological parents' rights are respected during the adoption process. You may contact us or call 615-977-9370 to schedule a consultation at our Franklin, Columbia or Brentwood office.