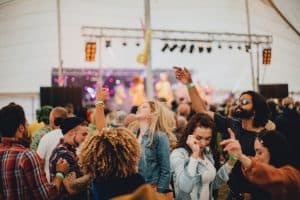 As we prepare for another season of Bonnaroo, which will kick off on June 7th through the 10th on "The Farm" in Manchester, Tennessee, we want to share some useful (we hope) tips for Bonnoroovians to help make their festival experience as memorable (in a good way) and fun as they hoped it would be.
Concert attendees from throughout the U.S. come to the farm every summer to enjoy the colossal lineup, which this year includes headliner acts like, Eminem, the Killers and Muse as part of a lineup of more than 150 acts including Future, Khalid, Kaskade, T-Pain, Bassnectar, Paramore, Sheryl Crow and Bon Iver. In addition to the incredibly diverse lineup of musical acts and performers, Bonnaroo has just improved camping accommodations with some new campground plazas. Plazas have replaced the old Pods and there will be new ones called The Grind, The Garage, and a new clearing called The Grove. According to the Bonnaroo website, all plazas include the following amenities:
·       Shade

·       Free WIFI

·       Showers

·       Art and other fun activities

·       Charging stations

·       Misting stations

·       Medical services

·       Safety stations

·       Information

·       Portable restrooms
Now for the Bonnaroo do's and don'ts
While at first glance, while you are reading this, you might roll you eyes and think that all of this is obvious, yet every year for the past 16 years that Bonnaroo has been in existence, people get busted, receive citations, get arrested and have their futures potentially screwed up because they did not follow these obvious tips. So, read on, keep an open mind, and don't say you weren't warned.
Do not drive drunk or drugged.
Even in all of the chaos of a summer music festival, drinking and driving or driving while you are impaired by drugs is against the law. In Tennessee, you could face up to 11 months and 29 days in jail, fines of up to $1,500 and your driver's license suspended for a year. Call an Uber or another ridesharing service or have a designated driver in your group.
Everybody at Bonnaroo is high! It's not a big deal if I take drugs like everyone else.
You would be wrong on that count. If you are caught in possession of drugs, depending on the quantity, you can face serious consequences which include jail time, fines, probation and possibly drug counseling. If you do not live in the local area, you will have to return to face those consequences if you are charged with drug possession or drug trafficking.
I'm just sharing my stash with by buddies.
Well, law enforcement likes to call what you just described drug trafficking and distribution. Whether you offer it to them doe free or charge them, it is against the law and you will face serious, life-changing consequences if you get caught.
If you do find yourself in possession of a citation, or in the back of a squad car on the way to jail, we are here to represent you. You come to Bonnaroo to have fun, but one unfortunate decision can ruin it all. At the Law Offices of Adrian H. Altshuler & Associates, our Franklin criminal defense attorneys are here to protect your rights and freedoms when you have been arrested or received a citation at Bonnaroo. You can call us at any time of the day or night, and we will come to you if you have been taken to the local jail. We also work with festival goers who are not from Tennessee, who need help getting home to their families. Call 615-977-9370 or fill out our contact form and schedule an initial consultation today.