#MeToo Movement Chosen as Time's "Person of the Year"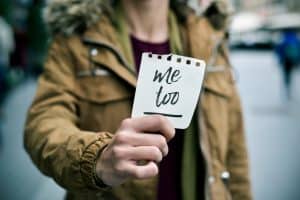 Time magazine named the "Silence Breakers," the women spoke out publicly about sexual assault and harassment, as the 2017 "Person of the Year." Earlier this year, the hashtag #MeToo was used across social media to encourage victims of sexual assault and harassment to come together in solidarity, and shine a light on the prevalence of the issue. The movement has helped numerous women, and some men, to share their experiences.
In actuality, the #MeToo movement started years ago on Twitter, by a woman named Tarana Burke. The initial campaign was focused on encouraging sexual assault victims in poorer communities to comment on these injustices. The movement gained momentum this year when celebrities such as Alyssa Milano began using the hashtag. Milano encouraged others to tweet #MeToo in kinship with other victims, some of whom chose to share their stories of sexual harassment or assault with the hashtag attached. The hashtag was used nearly a million times in the first two days.
The people featured on Time magazine's "Person of the Year" cover are:
Ashley Judd – an actress who was one of the first to identify movie producer Harvey Weinstein as a perpetrator of sexual assault and harassment.
Taylor Swift – a singer who had testified about being groped by a radio disc jockey.
Susan Fowler – a former software engineer for Uber who spoke out about the improper work environment at Uber that led to the ousting of former CEO Travis Kalanick.
Adama Iwu – a California lobbyist who had raised another campaign, "We Said Enough."
Isabel Pascual – a Mexican migrant strawberry picker, who was a sexual harassment victim.
An unidentified woman on the cover is a hospital worker who chose to remain anonymous for fear her job could be in jeopardy.
As a result of the #MeToo movement and these public accusations, many high-profile celebrities, journalists, and politicians have been forced to quit their jobs – even though some deny the claims against them. Some of the people who have quit or been forced out include:
Movie producer Harvey Weinstein
Journalist and commentator Charlie Rose
Actor Kevin Spacey
Minnesota Senator Al Franken
S. Congressman John Conyers
As a result of this movement and national conversation, some women are bringing sexual harassment and sexual abuse charges because the misconduct took place during their employment, and they may not have felt safe to share these experiences before.
At the Law Offices of Adrian H. Altshuler & Associates, we are dedicated to helping sexual harassment and sexual assault victims get justice. Sexual abuse and harassment needs to stop now. One way to stop the abuse is by encouraging victims to tell their stories. Another effective way is to force the wrongdoers to pay civil damages. If you have been the victim of sexual abuse or harassment, please call us at 615-977-9370 or use our contact form to schedule an appointment. We fight for victims in Franklin, Columbia, Brentwood, and nearby areas.