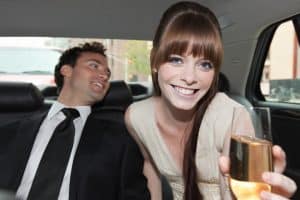 Despite Tennessee's strict penalties for DUI for drivers who are caught drinking and driving, drinking is perfectly legal for passengers. There are ten states in the United States that allow the consumption of alcohol inside of a vehicle, and Tennessee is one of them. These states allow passengers to drink from open containers of alcohol within a moving vehicle.
So, if you are out partying with your friends and you want to travel safely from one festive location to another and bring your alcohol with you, your safest option is to go with a ridesharing option such as Uber or Lyft. In places like Louisiana, Los Angeles, New York City and Washington, D.C., locations served by ridesharing companies such as Uber have seen the incidence of drunk driving crashes reduced by 6.5% among drivers under 30, while another study written about in the Washington Post, found that ride sharing had no effect on drinking-related fatalities.
The report said that the reason we may not be seeing a significant dent in drunk-driving-related crashes is because the problem is so big and there are still relatively low numbers of Uber and other ridesharing drivers.
If you are out drinking and you are also eating snacks, Tostito's tortilla chips have a new gimmick called the "Party Safe" bag that can tell you when you have been drinking and will help you get home safe. The bag comes equipped with a sensor connected to a microcontroller that can detect traces of alcohol on a person's breath. When the sensor detects alcohol, it turns red and forms the image of a steering wheel that says, "don't drink and drive." It then supplies an Uber code which the consumer can tap with their phone and call a ride. Mothers Against Drunk Driving (MADD) collaborated with Tostitos to offer party goers $10 off their Uber ride during and after the Super bowl. The goal of the Party Safe bag was to remove 25,000 cars from the road that evening to cut down on drunk driving.
Uber's code of conduct states that unless allowed by the state's law, open containers are not permitted in Uber vehicles. Given that Tennessee law allows vehicle passengers to drink from open containers of alcohol, it is legal to drink in an Uber.
When you choose to use a ridesharing service to get you home when you have been drinking you are making a smart choice that could save your life and the lives of other drivers on the road. Aside from the danger it causes, DUI carries serious penalties in Tennessee. If you are charged with a DUI, an aggressive DUI attorney from the Law Offices of Adrian H. Altshuler & Associates will protect your rights.
A DUI charge is serious and it can cause a lot of problems in your life if you are convicted. Make that phone call to the aggressive, Columbia DUI attorneys at the Law Offices of Adrian H. Altshuler & Associates at (615) 412-1122 or fill out our contact form to schedule a consultation today. We will take the time to review your case and offer legal counsel based on the circumstances of your case. We serve clients in Franklin and Columbia.