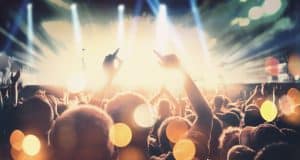 The hardcore among you already know and are already preparing for the 2018 Bonnaroo Music and Arts Festival. The 2018 lineup was just announced and as usual, does not disappoint. With Eminem, Future, the Killers, Muse Bassnectar, Khalid, Bon Iver and so many more set to perform this summer, the 17th annual edition of the festival will have more than 150 acts on ten stages June 7-10 in Manchester, Tennessee.
The good stuff
The word "Bonnaroo," is a Creole slang term that means "the good stuff." And when you arrive at the farm there will be more good stuff available than you will know what to do with. Bonnaroo newbies who enter the farm under the giant rainbow arches might have an idea in their minds about what they can get away with on the farm. What we'd like to do is give you a heads-up on what some of the common offenses that Bonnaroovians are often charged with either on the festival grounds or on the highways and roads leading to the venue.
Disorderly conduct, public intoxication
Minor in possession of alcohol, marijuana
Possession of paraphernalia
Possession with intent to manufacture, deliver or sell
Drug crimes at Bonnaroo
At the 2016 Bonnaroo festival, law enforcement arrested and cited more than 300 people over the four-day event. The number of arrests was down in 2016 as attendance was also lower than the previous year. Public intoxication, disorderly conduct and illegal possession of a controlled substance for drugs such as Molly, Ecstasy and LSD were the majority of citations and arrests. (Tennesseean)
In 2017, two men were found a Bonnaroo with $30,000 worth of drugs inside of a vehicle including marijuana, mushrooms, Molly, ecstasy and ketamine. A suspected drug dealer sold $6,000 worth of narcotics to an undercover narcotics detective.
The Coffee County Emergency Medical Services reported that there were fewer calls for paramedics in 207 than in 2016, and no deaths were reported. This is always good news. (Tennesseean)
If you are charged with a crime on the way to Bonnaroo or on the farm itself, you may be issued a citation or, depending on the nature of the incident, you maybe arrested. If you receive a citation do not take it lightly. It is vital that you contact a local criminal defense attorney who understands how the Tennessee court system operates. We know the District Attorney because we have defended countless clients before you who have gotten involved in unfortunate situations at Bonnaroo since the festival began in 2002. We will defend your rights when you have a run-in with law enforcement. Give us a call.
You go to Bonnaroo for a good time, but sometimes too much of a good time can get you into trouble. We are here to help. Having an experienced criminal law attorney on your side can make all the difference when you are facing criminal charges. At the Law Offices of Adrian H. Altshuler & Associates, we are strong advocates for our clients. We have convenient offices in Franklin, Brentwood, and Columbia. Call us today for a free consultation at 615-977-9370 or contact us now.