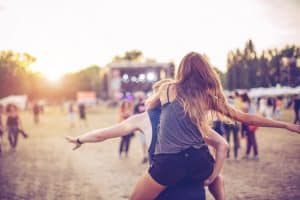 If you are planning to enjoy the infamous music festival of Bonnaroo this June, you'll be traveling through Middle Tennessee and Coffee County. If you're planning to enjoy Bonnaroo with substance use or under the influence of alcohol, however, you might be in for a bad time with the Coffee County police. If you find yourself in handcuffs for public intoxication or drug possession, you'll need to contact Franklin criminal defense lawyers for representation in court.
In 2016, Craig Northcott, Coffee County Attorney General, changed the game for Bonnaroo patrons. If you are arrested, even on a misdemeanor charge, you will not simply receive a citation as was common in years past. Before the change, Bonnaroo patrons could pay hefty fines in order to forego having to show up in court, as people come in from all over the world to attend the music festival. These citations were a large source of revenue for Coffee County. But now, the rules have changed. And you will be taken to jail, need to post bail, and be mandated to appear in court if you've been charged at Bonnaroo.
I've been arrested: what now?
If you get arrested or cited at Bonnaroo, you will have to return to Middle Tennessee or Coffee County for your court date. Here is what happens and what you can do in the event of an arrest:
Do not consent to a search. You are not obligated to consent to a search. Officers will likely search you anyway, but under no circumstances should you consent to a search of your person.
Do not answer any questions. You have the right to remain silent, and you should exercise that right until you have called your Franklin criminal defense attorney. Even if you have been cited or arrested for a misdemeanor, it's best not to give any information until your lawyer is present.
Stay calm. Even if you are nervous or scared, please do your best to remain calm. It will only help you in the long run. And, because you're at Bonnaroo, the likelihood is that you will not be the only person arrested or cited for your specific transgression.
Call a criminal defense attorney immediately. Missing court could mean mandatory jail time, and representing yourself is not likely to have positive consequences. Call a compassionate law firm or attorney that has experience representing Bonnaroo festival-goers.
Show up to your court date. Even if you are charged with a minor misdemeanor, attend your court date with your attorney.
It's important that you have a qualified advocate if you have been arrested in Middle Tennessee. Many people have been arrested at Bonnaroo before. You have the right to an excellent Franklin criminal defense attorney, and you should feel comfortable exercising that right.
The Law Offices of Adrian H. Altshuler & Associates provides experienced advocates for festival attendees who encounter problems at Bonnaroo. If you are in the Franklin, Brentwood or Columbia areas, call us at 615-977-9370 or contact us to discuss your Coffee County arrest, and let us know what kind of help you need. You are never alone, and our dedicated team of attorneys will work with you throughout your case.