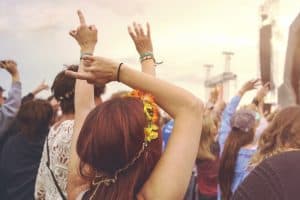 The Bonnaroo Music and Arts Festival will take place June 7-10 in Manchester, Tennessee. The four-day musical festival attracts local residents and visitors from across the country. The music normally starts around noon and can last until the early morning hours. A broad variety of music styles can be heard including bluegrass, rock, jazz, gospel, and many other types.
While the festival should be a lot of fun, for many people their stay leads to arrest and criminal charges. While we hope visitors will read our suggestions on minimizing the chances of arrest, we are ready to represent locals and out-of-towners who are charged with any type of crime.
Misdemeanors and Felonies
While many visitors are charged with misdemeanors, some are charged with felonies. Misdemeanor charges usually mean:
Less minimum and maximum jail time – the maximum time for a Class A misdemeanor is one day less than a year
Lower fines and costs – the maximum penalty for a Class A misdemeanor is $2,500
Other incidental consequences such as the duty to pay restitution
Both misdemeanors and felonies can result in forfeiture of your possessions such as your car or drug paraphernalia. Both types of offenses require the strong advocacy of criminal defense lawyers. Both types of offenses will result in a criminal record. Whether you are charged with a misdemeanor of a felony, you need to speak with a respected criminal trial attorney as soon as possible.
There are three types of Tennessee misdemeanors – A, B, and C. Class C is the least severe misdemeanor. There are six types of Tennessee felonies – A, B, C, D, E, and capital crimes. Class E is the least severe felony.
Generally, the common charges that are brought at or near the Bonnaroo Music Festival are:
Driving under the Influence (DUI). DUI includes the influence of drugs, marijuana, and prescription medications – in addition to the influence of alcohol. A first offense is normally a misdemeanor. Multiple prior convictions may increase the charge to a felony. If there is an accident, someone dies, or if a child is a passenger in the car – then the severity of the charge will increase.
Possession of drugs and drug paraphernalia. Generally, possession is a misdemeanor. When the amounts of the scheduled drugs or marijuana are large, then the person in possession may be charged with the felony crime of possession with intent to manufacture, deliver, or sell.
Traffic offenses. Most traffic citations are treated separately from misdemeanor and felony charges. The penalties usually involve fines, increased insurance premiums, and suspension or revocation of licenses. Some traffic offenses that can result in a misdemeanor charge are:

Unlicensed drag racing
Reckless driving
Child endangerment
Reckless endangerment
Some possible felony traffic-related charges include vehicular homicide, child endangerment, vehicular assault, and aggravated vehicular assault.
At the Law Offices of Adrian H. Altshuler & Associates, our lawyers hope you enjoy the Bonnaroo festival without incident. If you, a child, or a friend are charged with a crime, you need a strong advocate on your side. Often, there are defenses. Many times, the charges can be reduced or dismissed. To review your case now, please call us at 615-977-9370 or complete our convenient contact form to schedule an appointment. We represent defendants charged with traffic offenses, misdemeanors, and felonies – in Franklin, Columbia, Brentwood, and across Tennessee.