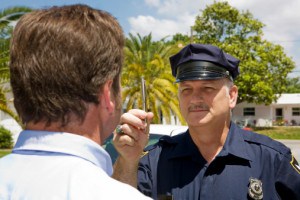 You are driving along I-65 late on a Friday evening. You might have had a beer or two while you watched the game, but you are by no means drunk, or so you believe. The next thing you know, you see those flashing blue lights and hear the chirp of a police cruiser pulling you over. Although you are nervous about being stopped so late at night by the side of the highway, you still feel pretty confident that you are going to be fine. The officer very cheerfully asks for your paperwork, which you gladly hand over. The officer tells you to perform a field sobriety test, which you are pretty confident that you have passed with flying colors, but when the officer asks if you have been drinking this evening, you foolishly tell him that you just had a couple of beers while watching the game. So, despite the fact that you were able to pass the FST, the friendly officer proceeds to arrest you on the suspicion of driving under the influence of alcohol (DUI).
Wait. Is that possible? Can I really get arrested for a DUI after I have passed a field sobriety test in Tennessee?
The short answer is yes.
Earlier this year, the Tennessee Supreme Court recognized that an individual may pass a field sobriety test and still be under the influence of alcohol. In the State of Tennessee v. David Dwayne Bell, the Tennessee Supreme Court reinstated Mr. Bell's DUI charges when he was stopped in 2009 by police when they caught him driving on the wrong side of a divided highway. He was able to perform several field sobriety tests with reasonable success, however the fact that he smelled of alcohol, and his admission of having been drinking, along with his significant driving mistake provided enough probable cause to arrest Mr. Bell for DUI.
If a motorist can pass a field sobriety test and still get arrested for DUI, why bother taking the test?
The standardized field sobriety test (SFST) is a battery of tests developed by the federal agency responsible for highway safety, the National Highway Transportation Safety Administration (NHTSA), which consists of three tests:
While the officer administers the test, they observe the individual's behavior and look for clues which might indicate whether they are impaired by alcohol consumption.
Field sobriety tests are not incredibly accurate, and a person could potentially pass a FST and still be charged with a DUI. Conversely, a person could also fail a FST and be charged with DUI despite the fact that they were not impaired by alcohol.
If you are facing DUI charges and you do not know what to do next, you might benefit from a consultation with one of our aggressive Franklin criminal defense attorneys. Please contact the Law Offices of Adrian H. Altshuler & Associates today at 615-977-9370. One of our Franklin criminal defense lawyers will offer legal advice, guide you through the judicial system and fight for your rights. We also have offices in Brentwood and Columbia to serve you.