What Is Reckless Driving?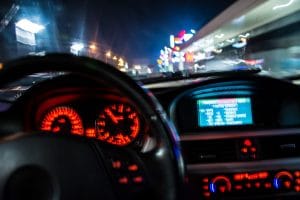 Most traffic offenses specifically describe what constitutes a traffic offense. Drivers know they shouldn't drive over the speed limit. They understand what it means to drive through a stop sign or drive through a red light. Reckless driving is, in many ways, a catch-all traffic offense. It essentially means that, in addition to any other violations, a driver can be charged for reckless driving if they clearly didn't respect other drivers on the road. Reckless driving is a much more subjective charge than most other objective traffic offenses.
The statutory definition of reckless driving
Tennessee drivers can be charged with reckless driving as follows:
55-10-205. Reckless driving. Any person who drives any vehicle in willful or wanton disregard for the safety of persons or property commits reckless driving.
The statute also has a specific section that defines how motorcycle drivers can commit reckless driving:
A person commits an offense of reckless driving who drives a motorcycle with the front tire raised off the ground in willful and wanton disregard for the safety of persons or property on any public street, highway, alley, parking lot, or driveway, or on the premises of any shopping center, trailer park, apartment house complex, or any other premises that are generally frequented by the public at large; provided, that the offense of reckless driving for driving a motorcycle with the front tire raised off the ground shall not be applicable to persons riding in a parade, at a speed not to exceed thirty miles per hour (30 mph), if the person is eighteen (18) years of age or older.
There's also a specific section for drivers who ignore flood warning signs or barricades – unless there was a "bona fide emergency." There are exceptions for police, fire and ambulance drivers who meet certain criteria as well.
Examples of reckless driving
Driving 30mph or more over the posted speed limit is reckless driving. Swerving, speeding, improper passing, driving too near another driver, and many other acts (which could result in other charges) can also qualify as reckless driving.
Some acts which wouldn't violate other traffic laws may still be considered reckless. For example, it may be reckless to drive five miles below the speed limit if the weather conditions are clearly treacherous or if there is an accident which has backed up traffic – and you should have stopped or driven much slower.
The penalties for a reckless driving conviction
Reckless driving is a Class B misdemeanor. Penalties can include:
Prison time – up to six months
Fines and court costs
Increased insurance premiums
If you have too many points on your driving record as a result of a reckless driving conviction, your driver's license may be suspended or revoked.
At the Law Offices of Adrian H. Altshuler & Associates, we work aggressively to obtain acquittals of reckless driving charges or to have the charges reduced to less serious traffic charges. We work to achieve these results by thorough questioning of the police balanced by showing respect for the police officers when negotiating a plea bargain. We often argue that a driver who was careless was not reckless. For help contesting any traffic offense, call us at 615-977-9370 or fill out our contact form to schedule a free consultation. We represent drivers who are charged with traffic offenses on roads and highways in Franklin, Columbia and Brentwood Tennessee.