What Are Red Flag Gun Laws?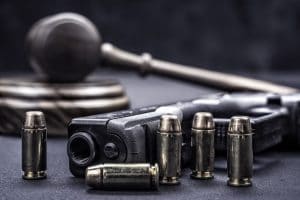 Early in August, President Donald Trump called for nationwide red flag laws in an effort to prevent mass shootings. Red flag laws – or Extreme Risk laws – allow law enforcement "to intervene in order to temporarily prevent someone in crisis from accessing firearms."
Aside from trying to prevent mass shootings, red flag gun laws are enacted in an effort to prevent domestic violence. A red flag law, if enacted in your jurisdiction, would permit you to seek a court order against someone who exhibits "red flags" so he or she cannot possess a gun.
Current red flag laws
As of right now, red flag gun laws are only enacted at the state level, not the federal level. There are only 17 states plus Washington, D.C. that have red flag gun laws. The number climbed from five after the Parkland, Florida shooting in 2018.
Tennessee does not have any red flag laws, and Governor Bill Lee seems unconvinced that we need any. The Tennessean reported that when "Speaking to reporters on Monday at the National Conference of State Legislatures, Lee would not commit to supporting such a law in Tennessee…." He went to say, "I haven't analyzed that option yet. It's early for us to talk about which direction we want to go."
Who can petition to enact a red flag court order?
Across the 17 states, family members, police officers, household members, medical professionals, teachers, state attorneys, state attorney general and mental health professionals can request the court order. Who can make the request varies on where you live.
How quickly are the orders issued?
Each state has different regulations it must follow when dealing with red flag gun laws. For the most part, a red flag gun law court order can be issued immediately and ex parte, which means without notifying the person whose firearms will be taken. This order can be carried out as soon as it is issued. However, the order does not last long. A permanent order will eventually need to be issued by the court after a hearing. At the hearing, the individual who is the focus of the order will be able to contest it.
Tennessee has yet to adopt any red flag laws, but that could change as people start demanding action. The experienced domestic violence attorneys from the Law Offices of Adrian H. Altshuler & Associates can answer your questions. Call us today at 615-977-9370 or complete the contact form on our website to schedule a consultation. We have offices in Franklin, Columbia, and Brentwood to better serve our clients throughout Tennessee.