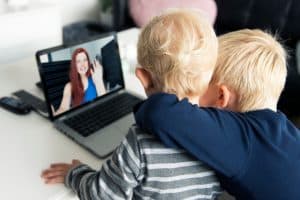 One of the most difficult and emotionally fraught parts of a divorce is the issue of child custody. Working through the details of custody, visitation, and parenting plans can be some of the most frustrating and intense parts of your divorce agreement. However, it is important to remember that everything is for the benefit of your child (or children).
Even with the most equitable and fair custody arrangements, you might still feel like you are missing out on important time with your child. This can sting even more if your ex-spouse lives in a different town, city, or even state. However, technology can play a major part in keeping your child in close touch, whether they are physically with you or not.
What is virtual visitation?
In today's digital age, virtual visitation has the potential to change the way people co-parent. Virtual visitation means using technologies like texting, FaceTime, Skype, Google Hangout, etc. to connect with your child when you are not physically in the same place. Virtual visitation does not take the place of face-to-face contact and traditional visitation, but it is an excellent way to supplement your time together. This is especially valuable for parents who live far from their children. Before we get into the advantages of virtual visitation, let's talk about some legal precedents.
All the way back in 2001, in the case Burke v. Burke, a Tennessee court ordered a webcam be installed in the non-custodial parent's home, calling this idea of virtual visitation a "unique, forward thinking and viable communication alternative." It is important to note, however, that there is still no law defining the use of virtual visitation in Tennessee. If you and your ex-spouse plan to incorporate virtual visitation into your parenting or custody agreement, you should work out the details with your attorney. And, if a parent is denied custody or visitation in the best interests of the child, it is unlikely they will be given virtual visitation either.
Now, what are some of the benefits of virtual visitation for your child (and you)? Even miles apart, you can:
Read a bedtime story
Help with homework
Talk about the day
Play video games
See events as they happen (sports, recitals, etc.)
Keep your family bond strong
As technology becomes more and more advanced, some experts express concern it will replace face-to-face contact. Virtual interaction should never be a substitute for physical interaction, which is why it is so important to ensure your parenting plan accounts for both.
We understand that there is nothing more important to you than your family. If you need assistance with a child custody, divorce, or child support matter, the attorneys at the Law Offices of Adrian H. Altshuler & Associates are here to advocate for you. We have offices in Franklin, Brentwood, or Columbia. Call us at 615-977-9370 or contact us.