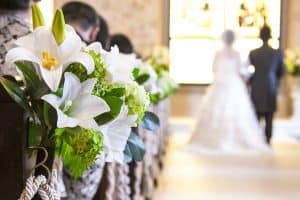 Many states in America have unusual marriage laws that are still on the books. While many of these laws aren't enforced, there's always the possibility they could be. As people move in and out of Tennessee, it's helpful (and OK – it's fun, too) to know what some of these odd laws are. Some of these make some sense. Others will make you wonder why they were ever enacted.
A few laws cited by Reader's Digest
According to Reader's Digest, these laws are still on the books:
if you get married on a dare or as part of a prank, you have the right to seek an annulment of the marriage. (This, of all the laws, seems to be the most logical.)
South Carolina. Be wary of proposing to a woman just to seduce her. If you're a man more than 16 years of age you can be charged with a misdemeanor under South Carolina's Offenses Against Morality and Decency Act.
Salem isn't just known for its witch trials. If you sleep nude in a rented room, you could be in violation of the state's marriage laws. There's another law in the town of Truro that requires that the groom-to-be either hunt and kill three cows or six blackbirds. Since blackbirds move faster, one suspects Truro might have a small cow population.
This state has one of the strangest laws: A wife needs to obtain written permission from her husband in order to wear false teeth.
Wichita respects your in-laws. If you don't respect your mother-in-law, that's one of their grounds for divorce.
Tennessee and Mississippi. These states leave a lot up to the county clerk. If the clerk thinks you or your betrothed are "drunk, insane, or an imbecile," you may be out of luck. The county clerk may deny your right to marry.
This state helps women who keep making the same bad decisions. The state doesn't allow a woman to marry a man – for the fourth time.
Here, you can marry a first cousin – but only if you're more than 65 years old.
New Orleans help protect those who are married by fortune tellers. It doesn't authorize marriages that are performed by palm readers or psychics. But, if you were using a fortune teller to marry you – you already knew that.
California, Colorado, Texas, and Montana. These states help our men and women in the military branches. Servicemen and women who are out of the country can be married through a proxy – someone who stands in their place at the marriage ceremony. In Montana, both the groom and bride can be married by proxy – in the same wedding.
While not a marriage law, Hartford Connecticut makes it illegal to kiss/smooch in public – but only on Sundays.
If you have questions about marriage, prenuptial agreement, divorce, or any family law matter, the Law Offices of Adrian H. Altshuler & Associates has the experience you need. They've built their strong reputation on over decades of advocacy. Please call us at 615-977-9370, or fill out our contact form to make an appointment. We represent families, spouses, parents, and children in Franklin, Columbia, Brentwood, and nearby locations.