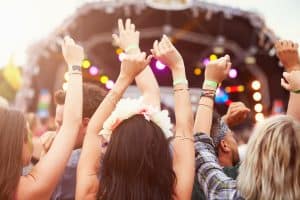 Festivals like Tennessee's Bonnaroo Music Festival are a wonderful time for people of all age. They help to bring communities together, to listen to old favorites and to new performers across a wide spectrum of music styles. While these festivals can be a lot of fun, those in attendance should be aware that crimes do happen at these events.
Many different types of criminal activity are possible because such large crowds, tens of thousands, attend them. Security can't watch everyone. It's easy to get caught up in the excitement of the musical acts and time with friends and not focus on your safety
Some of the types of crime that are common at festivals include:
Theft
Traffic violations
Sexual offenses
Illegal use or possession of drugs or alcohol
Illegal scalping or selling of tickets
Anyone attending Bonnaroo or any other type of festival should take steps to prevent being arrested for criminal activity. These steps include staying sober, not bring drugs to the event, avoiding sexual intercourse, and understanding your rights if you are arrested.
Some practical steps to take to protect against criminal actions
Some reasonable steps to take to reduce the odds of being a victim of a crime at a music festival include:
Lock your car and take the keys with you. While you're at the event, people will try to enter unlocked cars and take what's inside.
Don't leave valuables in your car. It's best to leave any computers, cash, jewelry, documents, or important papers (other than car-related items like registration and proof of insurance) at home. Do your shopping before you go to the festival. If you do have valuables, lock them in the trunk or other parts of the car that have a lock.
Park in spots that are near lights. Make it as hard as possible for anyone to break into your car.
Be vigilant. When walking and at the event, be aware of where your wallet and purse are so nobody can easily grab them. Try to keep them in your front pocket, not your back pocket.
Go the event with others. The more people that are around you, the harder it will be for anyone to steal, attack, rape, or commit any physical act against you. More friends also make it harder for someone who commits a crime to get away.
Don't leave backpacks unattended. You never know what could end up in there – or end up being taken from you.
Drink in moderation. If you are of age and enjoy a beer or a drink, be sure not to overdo it. If you lose control, you will be less able to respond to any type of improper conduct.
Plan ahead. Agree ahead of time on a meeting place with your friends in case you get separated.
You should know how to contact the police if something goes wrong.
Our criminal defense lawyers provide strong advocacy for anyone accused of a crime. This includes representing anyone who is charged with theft, sexual assault, or other criminal offenses at Bonnaroo or other festivals. For help now, call the Law Offices of Adrian H. Altshuler & Associates, at 615-977-9370, or fill out our contact form. Our lawyers defend clients in Franklin, Columbia, Brentwood and nearby locations.