Putting an End to Sexual Assault and Harassment at Festivals Like Bonnaroo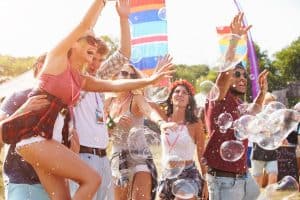 Music festivals and promoters are beginning to take sexual assault safeguards more seriously. Do LaB, a music promoter in LA, is holding training classes on sexual harassment for fans and staff at music festivals. They also provide a medical team "specifically trained to fight sexual harassment as well as counselors available for any victims." The training includes being able to act quickly and provide a safe space for someone in a poor situation.
One woman, Sara St. Hilaire, a music marketer, said that when she was at the Bonnaroo Festival in Manchester, Tennessee, ""This guy was creeping up on me and groping me, and I had to get away." She says she hasn't been back to Bonnaroo.
Another woman noted how she was followed by a many for five blocks and had to use a rock for a weapon. That woman said, "Most of the harassment we get, we don't mention to anyone because we don't want to get labeled as not cool or difficult to work with. When we're scared enough to mention it, we need to be protected without question."
A promoter of a London festival said she though working as a Disc Jockey would offer her protection "But actually, she said, "it means I am a sitting duck. A few years ago, a guy entered the DJ booth and came up behind me, grabbed my hips and started thrusting up on me while saying really sick sexual things. It felt like the ultimate show of power because I felt I couldn't react like I normally do."
The LA Times story says that the culture of unwanted sexual advances and assaults at music festivals dates back to the "free love" culture of the 1960s. At festivals, drinking and drug adds to some men even thinking they're entitled to abuse women. Kelly Oliver, a philosophy professor at Vanderbilt University in Tennessee added that a lot of music actually celebrates "a lack of consent." Many women falsely assume that they're to blame when it's the attacker who is wrong.
The story also says that men are being sexually harassed too. In one horrific case a man, in 2015, wore a T-shirt that read "eat sleep rape repeat."
Strategies being used to combat sexual assault
Some newer methods being encouraged and used to manage the sexual assault issue include:
Activists are now demanding new ways to report threatening behavior.
Police and festivals are working to increase lighting "so there are no dark corners."
Music fans can now, at some festivals, use a text-messaging system to report assaults.
Many activists, according to the LA Times story, say that having more women and LGBTQ community members on the stage and behind the scenes would help – so that the negative dynamics of all-male concerts will be reduced.
People are passing out cards that have a polite rejection notice on them.
Some clubs "have posters in women's restrooms advertising 'angel shots,' or another specific drink order that will prompt a bartender to call security.
Other safety measures include being more proactive to safety concerns and holding promoters and staff liable for harassment.
The Bonnaroo Festival should be a time of fun and joy for all attendees. More and more security and staff will be on the lookout for signs someone might commit or has committed sexual assault, sexual abuse, or sexual harassment. At the Law Offices of Adrian H. Altshuler, our criminal defense lawyers provide counsel for anyone charged with a sex-related offense at Bonnaroo. To speak with a criminal defense attorney in Franklin, Columbia or Brentwood, please call 615-977-9370 or complete the contact form.