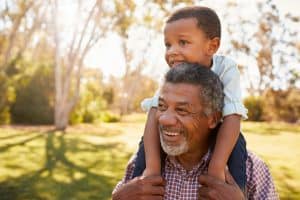 Families can be complicated and, often, parents are not the sole caregivers to their children. Grandparents often have a special relationship with their grandchildren and, in many cases, might function as a parent or legal guardian to a child for some or most of their lives. In Tennessee, there are three specific statutes of family law that deal with grandparental rights and visitation, especially when there has been a significant relationship with the grandparent as a caretaker.
Troxel v. Granville was the United States Supreme Court case decided in 2000 about the visitation rights of grandparents and grandchildren. The case assumed that parents who are fit to raise their children will typically act in the best interest of the child, and stated that these parents have a constitutional right to raise their children without government interference. If a fit parent wants to restrict access to a child's grandparent or grandparents, that is up to the discretion of the parent. The government will not intervene. However, if the exclusion of grandparental visitation would represent a substantial harm to a child, this can supersede a parent's constitutional right to child rearing.
Grandparental visitation circumstances in Tennessee
The Tennessee legislature has previously enacted three statutes specifically directed at grandparental visitation rights. These laws state that a child's grandparents can indeed assert visitation rights in particular situations. Grandparents do not have assumed access to their grandchildren, and cannot demand visitation solely because they believe such access is in the best interest of their grandchild. Under state family law statute T.C.A. § 36-6-306(a), a Tennessee judge may only order grandparental visitation when the nuclear family unit or child has already suffered from:
Death of a parent
Divorce or separation
Missing parent
Foreign grandparent visitation order
Special relationship with grandparent
Presumption of irreparable harm
The Tennessee Supreme Court ruled in 1993 that it is an invasion of parental privacy to interfere with child rearing techniques where there is no evidence of harm to the children. The case was Hawk v. Hawk, 855 S.W.2d. If the grandparent has been the sole caretaker of a child, however, and parents are deemed unfit to raise their child, that is when the court will often intervene.
If you have been a primary caregiver to a grandchild and think you might have a legal right to custody or visitation, you will need a reliable Franklin family lawyer that can help you navigate the courts. The Law Offices of Adrian H. Altshuler & Associates have a top-notch legal team with the experience and knowledge to advocate for grandparents and children in these circumstances. We can help you prepare your case and assist you in furthering your understanding of Tennessee's laws surrounding grandparental visitation and even custody. If you are in need of legal representation for your family in the Franklin, Brentwood, or Columbia areas, call us at 615-977-9370 or contact us online.