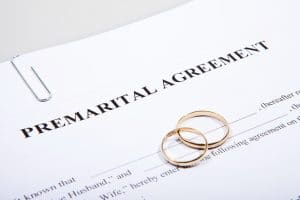 Many celebrities enter into prenuptial agreements to avoid conflict when they divorce and to minimize the amount they have to pay. Without a prenuptial agreement, celebrities can be ordered to pay large settlements. As a general rule, prenup agreements don't include child support because the rights of the child to support can't be bargained away.
Celebrities, like every-day people can be required to divide their property, pay alimony, and pay child support – just like the rest of us. Some of the most expensive marital property and alimony awards celebrities have been ordered to or agreed to pay are as follows:
Mel B. When this Spice Girl singer divorced backup dancer Jimmy Gulzar, she was ordered to make a settlement for nearly $1.6 million. When she divorced her second husband in 2017, she settled that divorce for $6.5 million.
Paul McCartney. The legendary Beatles singer divorced the much-younger Heather Mills after six years of marriage amid "accusations of drug use and rumors that she didn't get on with Sir Paul's children from his previous marriage to Linda–Mrs. Mills-McCartney." McCartney agreed to pay Mills $38.5 million and another $70,000 yearly for their daughter, Beatrice, until she reached the age of 17.
Britney Spears. This singer married a backup dancer, Kevin Federline. After three years and two children together, the marriage ended. Ms. Spears was ordered to pay Federline $40,000 a month. There were rumors that Federline was refusing to marry his new girlfriend, as this would mean an end to his alimony checks. In 2013, Federline did marry former athlete, Victoria Prince.
Silvio Berlusconi. While he's not a household name to Americans, Berlusconi was the former Prime Minister of Italy – known as much for his personal life as his political career. After 25 years of marriage, he divorced his wife – amidst rumors of an encounter with an 18-year old. Mrs. Berlusconi "was awarded the equivalent of $1.6 million in alimony – every month.
Jennifer Lopez has had numerous relationships and several marriages. After her eight-year marriage to dancer Cris Judd (the marriage lasted for less than one year), J-Lo reached a settlement to pay Judd $13 million – or about $50,000 for every day they were married.
James Cameron and Linda Hamilton. The Oscar-winning director and actress worked together on such films as the Terminator. Their 18-month marriage ended when "Hamilton discovered Cameron having an affair with a much younger woman while he was away filming the financially successful Titanic." The courts awarded her a $50 million alimony settlement.
In other noteworthy celebrity settlements:
Actor Michael Douglas settled his divorce with his pre-Catherine Zeta-Jones, wife for $45 million.
Harrison Ford was ordered to pay his wife of 21 years a lump-sum settlement of $85 million and a split of any future royalties made during the marriage – including the Indiana Jones movies.
Steven Spielberg, whose movie hits include Schindler's List and Saving Private Ryan divorced actress Amy Irving to marry Kate Capshaw. Irving was awarded $100 million – after a prenup "scrawled on a cocktail napkin prior to their marriage" was ruled invalid.
Even the rich and famous struggle to resolve their property and alimony issues when they divorce. At the Law Offices of Adrian H. Altshuler & Associates, we carefully review your marital assets, your spouse's income and assets, and every factor the determines how much funds you should receive when the divorce is final. We've been representing families since 1991. We meet clients in our Tennessee locations in Franklin, Columbia, and Brentwood. Please phone our office at 615-977-9370 or use our contact form to schedule an appointment.