Can I File for Divorce Online in Tennessee?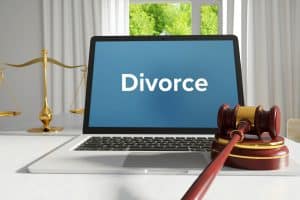 There are plenty of websites that walk you through how to file and finalize a divorce from your partner completely online. Some say it is less stressful and keeps costs to a minimum since working with an experienced divorce lawyer is not required.
However, it is not always in your best interest to have a do-it-yourself divorce. There are many nuances that come up while going through a divorce, and once everything is finalized, it cannot be changed. Many people may think that filing online is easy and quick, especially if they are having an amicable separation.
The truth is, they may end up agreeing to things without realizing the impact they will have down the line. Fortunately, it is not legal to file for divorce online in the state of Tennessee. But couples in the Franklin area should be as educated as possible on why working with a good divorce attorney is so important.
How online divorces work
Before we really dive into why you should never file for divorce online, let's talk about what exactly they are. It may sound like you could be magically divorced with a click of a button, but it is still not that simple. You essentially go through all the same motions that you would if you were to work with an attorney, but you are responsible for doing all the paperwork yourself, and it could take some time if you are not familiar with a lot of legal terms.
You will need to file a divorce petition, submit it to the county courthouse, and fill out a summons to serve your spouse. This is especially important because if your spouse claims they never received the paperwork, it could deem your divorce invalid. After both spouses agree to the divorce and include some additional tax documents, a judge can approve your divorce completely online without the assistance of an attorney or stepping foot in a courthouse. It is worth noting though that an online divorce will only be successful if both parties agree. If one disagrees, then the online divorce is void and you must go to mediation or trial.
Divorces are never straightforward
Even if couples are on great terms as they go through a divorce, certain aspects of splitting assets can be super complex and most couples do not even think about it. Who gets the house? How will a 401(k) be split? What happens to the debt? What about custody agreements? When filing for a divorce online, people might check boxes willy-nilly without realizing what the consequences could be. It may be easier to say that 50/50 custody of the kids is fine because the process of filing for it online is simpler, but you and your soon-to-be ex-spouse made a verbal agreement that you will actually have them more often—this is just for the paperwork.
Without an attorney present, there is no one to tell you this is a bad idea for multiple reasons. Your ex-spouse can very easily say they never agreed to you having more than 50/50 custody. After all, you both signed the papers saying this is exactly what it would be. An attorney can help you draft up the proper papers and fight for your case to receive the amount of custody that you really want and think you deserve.
Alimony and child support can throw a bigger wrench into things
With divorce also sometimes comes alimony or child support payments. In Tennessee, while there is a precise calculation for determining child support payments, there is no exact calculation for alimony. This means requested payments could be higher than what was anticipated.
If filing an online divorce, one partner may agree to monthly alimony or child support payments that they may not actually be able to afford after calculating new living costs and other additional expenses. This could lead to so many problems later on, including fines or even jail time. This is never something that should be negotiated and signed off on without consulting an attorney.
Certain agreements can never be amended
It is so important to know that some agreements you made with your soon-to-be ex-spouse cannot ever be changed after the divorce papers are signed. Luckily, things like custody agreements and child support payments in Franklin can be modified after the fact. (However, the process may not always be simple, especially if your ex-spouse disagrees with the changes.) On the other hand, how debts and assets are divided, like properties, bank accounts, jewelry, or cars, are a done deal.
If you are using an online website to help you file for divorce, there is a good chance you are just trying to quickly move through the process and may end up regretting some of these decisions shortly after. Dividing assets is one of the most important aspects of a divorce, and the process should not be rushed simply for the sake of finalizing a divorce as quickly as possible.
Although it is not legally required to have an attorney in Franklin, it is highly recommended to at least consult with one before finalizing a divorce. An experienced attorney will guide you through the steps, ask questions you may not have thought about, and ensure that you are making all the right decisions for your future.
Going through a divorce is never easy, and you should not have to fight for your rights all on your own. Even the most amicable divorces can be complex. If you are thinking about or are ready to file for divorce from your spouse, the Franklin attorneys at the Law Offices of Adrian H. Altshuler & Associates can help you through the process. Call our office at 615-977-9370, or submit our contact form to schedule an appointment in Franklin, Columbia, or Brentwood today.