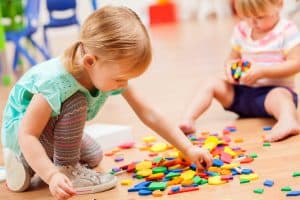 One of the most important and difficult issues that come up during a divorce is child custody. Divorcing parents must decide the terms for custody, whether it will be joint or sole custody, a schedule for parenting time, and they need to do it in a way that disrupts their children's lives as little as possible. Depending on the parents' relationship with each other, custody solutions can be tailored to fit whatever works best for them and their child—as long it provides stability for the child.
A new type of custody is becoming more popular with some divorced couples, although it's not for everyone. It's called "bird nesting," or sometimes "nesting arrangements." Here's a little more about it, and you can talk to our legal team if you think it might be an option in your own child custody arrangement.
Child custody nesting arrangements
Bird's nest custody is a type of custody that's become popular over the past few years. It eliminates the shuffling about of children to and from parents' homes. In this type of agreement, it's the children who live in one home all the time, and the divorced parents take turns living there as the primary caregivers.
This type of agreement is focused solely on the stability of the children and not the parents. This kind of arrangement might be the best type of child custody possible, but obviously all conditions have to be perfect for it to work. The parents must have a very good co-parenting relationship, where they can coordinate their schedules and be able to communicate easily with each other about any issues that come up. They may also need to be financially stable, as nesting arrangements typically require the maintenance of three homes—the primary shared residence, and separate residences for each of the parents.
A bird's nest custody arrangement is not something a judge will ever order for a divorcing couple. It's something you would voluntarily enter together. And for it to be successful, all parties involved need to be completely dedicated to it working. If you're thinking about entering into a child custody nesting arrangement as part of your divorce, you should keep the following in mind.
Cooperation: Nesting is for the best interests of the child and not the parents, so you and your co-parent need to be able to work together. You must be able to put aside any animosities or grudges for this type of living arrangement to be successful.
Finances: Most nesting living arrangements involve three residences—the shared home for your child, your home, and your co-parent's home. It's important to go over all of your finances to ensure this is a real possibility for your family.
Boundaries: Each co-parent needs to respect the other's boundaries. You should each have your own private space within the shared home. When you are living in the residence, your ex-spouse needs to respect your space and not interfere, and vice versa.
If you believe bird nesting custody is an arrangement that can work for you, talk to the family law attorneys at the Law Offices of Adrian H. Altshuler & Associates. We can help you work out a child custody agreement tailored to the specific needs of your family. Let us know how we can help you. We have offices in the Franklin, Brentwood, and Columbia areas. Call us at 615-977-9370 or contact us to schedule a consultation.