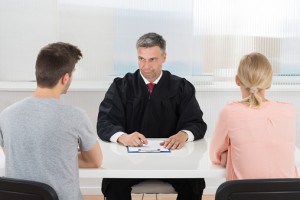 As we have said so many times, divorce is basically the breaking of a contract. If there were a way to separate the high level of emotion that the divorce transaction stirs up, it would probably be a faster, easier process to work through. But divorce is not just about breaking a contract. Marriage represents a sacred bond between two people that was meant to endure until death. Married couples build their lives around one another and they plan their futures together. Then along comes divorce to shatter their dreams and plans.
Every couple getting divorced in Tennessee must first go through mediation. It may not work for every couple, but it is worth giving your all to, because there are some benefits to mediation:
Your divorce details are more private. You work out all of the issues pertaining to the divorce behind the closed doors of a conference room. Your conversations and negotiations are private rather than taking place on the public record in an open courtroom.
You may reach resolution faster. Rather than feeling at the mercy of the judge's calendar, your divorce takes place at the pace you both decide on. Divorce does not need to take a year or eighteen months to resolve. With mediation you schedule meetings with the mediator at times that are convenient for both of you, get show up and you work it out.
It's a way to work out complex property and asset division. Mediation can work in situations where complex, high-asset property division will take place. We can make sure that you have access to all of the experts you might need such as asset valuators, CPAs, and real estate experts to help resolve and fairly distribute the assets between you.
It's cost effective. You cannot really compare the costs of mediation vs. litigation because you have all of the filing fees, court costs hourly rates for divorce attorneys and other incidental costs of litigating a divorce. A case that might cost $1,500 to mediate could cost $10 to $15,000 or more to litigate.
It sets the tone for custody and co-parenting. Not only can mediation offer a much faster solution for your child custody decision, it can serve to transform the way in which your relationship as co-parents operates in the days to come. Mediation can give you a new framework in which you and your co-parent can cooperate and collaborate on the shared interest of raising your child beyond the divorce
Perhaps the greatest benefit of mediation is that you get to be an active participant rather than a passive observer of your divorce. You and your former spouse will come away from the process hopefully having gained new skills for working through differences and finding a mutually acceptable solution without acrimony.
There is an alternative approach to divorce that does not require the high degree of conflict and aggression that you might associate with a litigated divorce. If you are considering mediation, you are welcome to work with one of our experienced Franklin divorce attorneys from the Law Offices of Adrian H. Altshuler & Associates. You will have an advocate who will fight for your rights and keep you informed at every step in the process. You are welcome to contact us at 615-977-9370 to schedule a consultation at our Franklin, Columbia or Brentwood office today.