Yes, You Should Hire a Financial Advisor Once You Decide to Divorce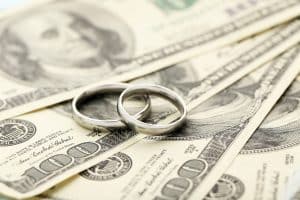 Divorce can be a heart-wrenching experience. The life you planned and expected is ending. You don't know where to go or what to do next. The dreams you had and the plans you dreamed have fallen apart.
When divorce becomes a reality, do not let your financial life fall apart too. In addition to a divorce lawyer, you will want to consider hiring a financial advisor, especially if you are worried that you and your ex may not be able to come to an affable and equitable agreement.
The emotional aspects of a split often overshadow some of the practical issues. For example, most couples share finances, including debts and assets. You may own property together or run a shared business. These are all issues that must be addressed to protect your financial security and stability, especially if your divorce is not amicable or you have complicated finances.
Having a financial advisor coordinate with your divorce attorney is highly recommended. They will join forces to ensure your rights are protected, you receive a fair settlement, and you are back on your feet after your divorce is finalized.
Financial matters to consider during a divorce
There are many financial issues to consider once you decide to divorce. Assets and debts must be divided, and some payments must be negotiated. Some of these issues include:
Credit Cards
Taxes
Insurance Plans
Even family jewelry and heirlooms must be a consideration for couples that are splitting up. There is much to think about and coordinate during a divorce. Additionally, there may be assets or debts that you don't even know exist. A financial advisor will help investigate and navigate your financial separation to protect your interests and make sure you receive a proper settlement and are set for an independent future.
What exactly is a divorce financial advisor?
A divorce financial advisor is a financial professional experienced in the financial aspects that apply to divorce and/or the splitting of assets and debts between a couple.
Investopedia defines a Certified Divorce Financial Advisor (CDFA) as follows: "A certified divorce financial analyst (CDFA) helps couples and their attorneys achieve equitable divorce settlements using knowledge of tax law, asset distribution, and short- and long-term financial planning."
Not all divorce financial advisors are certified, but they should have extensive and applicable experience and be knowledgeable regarding the financial implications of divorce. Your divorce lawyer may be able to suggest an appropriate financial advisor, as the advisor will work along with them to defend your rights and make sure you are treated fairly.
A U.S. News article provides the following advice from a senior financial planner with Citizens Securities, Jeff Spivack, regarding a divorce financial advisor: "Be aware that a divorce financial advisor's role is not to provide legal or tax advice, Spivack notes. Rather, the advisor is there to help coordinate the guidance you receive and present questions to the other experts on your financial team, such as your attorney, accountant, and mediator."
A divorce financial advisor will be able to provide guidance regarding:
The value of assets and debts, including the marital home
Division of retirement and pension accounts
Amount and duration of alimony
Tax implications of property division and alimony
Budgeting for life after divorce
A divorce financial advisor can help to ease your mind during a turbulent separation and make sure that you are set for the new life you have ahead of you. Along with an experienced divorce lawyer, your divorce financial advisor can make the divorce process a little easier for you and your family.
Our Franklin divorce lawyers collaborate with your financial advisor
It is in your best interest to employ a financial advisor and a lawyer who work collaboratively, especially if your financial situation is complex. Your lawyer will work through your filing and work with the financial advisor to make sure you receive the settlement you deserve. A financial advisor may do the following:
Some of the things a divorce financial advisor might do for you include:
Investigating, creating and generating the value of all marital assets, including the marital home, and other real estate properties
Ensuring transparency during the divorce proceedings
Offering advice on the division of assets
Providing recommendations for child support
Discussing tax ramifications of your divorce (if you need tax advice, you will want to contact an accountant or other tax professional)
Coordinating with lawyers and mediators to ensure the best results
Helping you to budget and plan for the future
A financial advisor will not and should not offer legal advice. That is your divorce lawyer's responsibility.
Ending a marriage is not an easy transition. Stress and tension can multiply when children are involved, businesses are shared, and you have numerous assets to divide. The process can be heartbreaking and exhausting. The Law Offices of Adrian H. Altshuler & Associates has been helping clients understand and survive the economic issues of divorce for 30 years.
One of our aims is to protect you financially. We will work with your financial advisor to accomplish that. We understand that your divorce is not just a legal situation, but also a highly personal life event that will affect you and your family for years to come. Whether you need help filing for separation, filing for divorce, or pursuing a collaborative divorce, our compassionate divorce lawyers in Franklin, Brentwood and Columbia have the experience and character to vigorously represent your rights. For help with all phases and parts of your divorce claim, call our office, or complete our contact form to schedule an appointment. Our offices are in Franklin, Columbia and Brentwood.