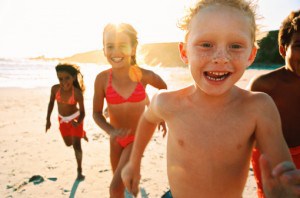 Summer time is when the predictable schedule during the school year floats away and chaos can break out, if you do not already have a parenting plan in place. Now that you are in separate households, it will virtually impossible to decide to take a spur-of-the-moment trip if you plan to bring the children along. You have your co-parent and their schedule to deal with when you are making travel plans or even plans for local activities if they involve the kids. In addition to your former spouse's summer plans, kids also have summer activities that they want to participate in.
Do your kids like to attend the same sleep-away camp that they attend for 3 weeks in July every year with their friends? Do they have band camp or computer camp that they would not want to miss? Maybe the older ones are starting to get summer jobs, which will hamper their ability to travel for many days at a time if they want to keep their job.
Even if you have a parenting plan in place, you may want to schedule a call or meeting with your child's other parent and compare notes and schedules for the summer schedule. If you do not already have one, now might be the time to suggest that you both sign up for a co-parenting app. These apps make juggling schedules so much easier and once you set it up and synchronize each other's calendars, you won't have to even bother with face-to-face meetings if that is something you would rather not have to deal with.
One of the best things you can do for yourself and for your children is to find a way to develop at least a cordial, business-like relationship with your child's other parent, but if you can be friendly with one another there are countless benefits for everyone concerned. Working out the details about child custody is an ongoing discussion. As your child grows, their needs will change, health issues may arise, their educational needs will change and both parents' work schedules may change. All of these things will have an impact on the parenting plan agreement, which your family law attorney can work with you to develop and make modifications to if the need arises
If you would like to look forward to a fun, relaxing summer that is as drama and conflict-free as possible, take a moment to look at your calendar, plan out your summer travel and activity plans and then coordinate with your co-parent well enough in advance to keep things moving smoothly. If there are any major life-altering changes going on that will have an impact on your current custody agreement, your Franklin family law attorney can work with you to petition the court to for a modification.
If you have questions about developing a parenting plan agreement, or any other questions pertaining to child custody, you may want to schedule a consultation with a Franklin family law attorney from the Law Offices of Adrian H. Altshuler & Associates who has had years of experience dealing with these kinds of cases. We always keep the best interest of the child in mind as we work towards the most favorable custody arrangement. You may contact us to schedule a consultation at our Franklin, Columbia or Brentwood office.