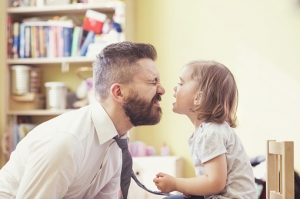 As our society shifts the traditional role of the father is shifting and changing, which is having an impact on divorce and child custody decisions. As fathers take a more active role in nurturing and caring for their children and the household, and as more women take on the role of primary income earner for the household, there are more fathers who stay at home with the children while the wife works to support the family. Once a struggle primarily for working mothers, now dads, too, find themselves trying to balance the competing demands of career and family.
A prime example is U.S. Congressman Paul Ryan, who was just elected Speaker of the House of Representatives. Speaker Ryan is also the father of school-aged children. Before agreeing to run for the position of Speaker, he stipulated that he would take the job only if his official duties did not conflict with his family time.
The Pew Research Center has done extensive research about the role of fathers in the American family and they came up with 5 key findings:
Fewer dads are the sole income earner for the family. In American families, 60 percent of households are dual-income earners.
The role of mother and father are converging.
Career-family balance is also a struggle for many working fathers
Today's dads say they spend at least as much time with their kids as their own fathers spent with them. About 46 percent of fathers said they spent too little time with their kids.
More fathers are staying at home to care for kids. In families with children, 7 percent of fathers in the U.S. do not work outside of the home. That come up to about 2 million dads who stay at home, which is up from the 4 percent who stayed home with the kids in 1989.
Given that fathers are taking on a more active role in parenting and managing the household, when it is time to work out custody arrangements, they look for more than an every other weekend custody agreement. With the advent of parenting agreements, parents can work out creative parenting time schedules that allow for each parent to continue their role in their children's lives with as little disruption as possible. Working with an experienced Franklin family law attorney will can help divorcing parents find a custody arrangement that works best for their child and that will allow both parents to play an important role in the child's life.
Parents who are thinking about getting a divorce are welcome to contact the Law Offices of Adrian H. Altshuler & Associates today. We have offices in Franklin, Brentwood and Columbia to serve your family law needs.